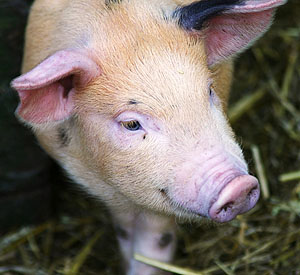 African swine fever (ASF) is caused by the African swine fever virus (ASFV) which is a member of the Asfarviridae family. It is the only DNA virus transmitted by arthropods. It is highly contagious, resulting in up 100% morbidity in previously unexposed pig herds with mortality varying between 0 and 100% depending on the virus, the host, the dose and route of the exposure of the virus. There is no treatment or vaccine. The disease was confined to Africa until spreading to Europe in the middle of the last century, and later on also to South America and the Caribbean. In Europe (apart from Sardinia) and in South America/Caribbean the infection was eradicated via drastic control and eradication programmes. But in 2007, it was introduced into Caucasus and then Eastern Europe where it has become endemic. ASFV can infect a range of wild and domestic suids, resulting either in clinical disease in domestic and feral pigs and wild boar or an asymptomatic carrier state, especially in the case of African wild suids. Soft tick vectors have also been identified: Ornithodoros erraticus in Spain and Portugal and members of the Ornithodoros moubata complex in Africa. The epidemiology of the disease and the ability of the virus to survive within a particular ecological system is defined by its wild animal habitat and livestock production system characteristics that influence host and vector species densities and interrelationships. There is now widespread concern that ASFV may spread further across Europe and into Asia, in context of increased trade activity and given that domestic pig populations are increasing, particularly in Eastern Asia.
FOR MORE INFORMATION ABOUT ASF DISEASE VISIT THE FOLLOWING LINKS
RECOGNIZING AFRICAN SWINE FEVER A FIELD MANUAL. Food Agriculture Organization of United Nations (FAO)
AFRICAN SWINE FEVER OIE CARD. World Organization for Animal Health (OIE).
ASF REVIEW DIAGNOSIS, VIDEOS and DIAGNOSIS PROTOCOLS. (Sánchez-Vizcaíno, J.M, Mur, L. and Arias, M . © 2010)
SCIENTIFIC REVIEW ON AFRICAN SWINE FEVER. European Food Safety Aithority (EFSA)
EVALUATION OF POSSIBLE MITIGATION MEASURES TO PREVENT INTRODUCTION AND SPREAD OF AFRICAN SWINE FEVER VIRUS THROUGH WILD BOAR. European Food Safety Aithority (EFSA) 2014
PREPARATION OF AFRICAN SWINE FEVER CONTINGENCY PLANS. Food Agriculture Organization of United Nations (FAO)
Food Agriculture Organization of United Nations (FA