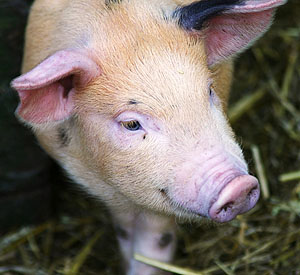 African swine fever (ASF) is one of the most complex infectious swine diseases. Its notification to the World Organization for Animal Health (OIE) is mandatory due to the high mortality it causes, its efficient transmission rate and the great sanitary and socioeconomic impact that it produces on international trade of pigs and pork products. The aetiological agent is the African swine fever virus (ASFV), a large, enveloped double-stranded DNA virus, which is the only member of the Asfarviridae family. The ASFVs have been divided into 24 different genotypes based on their B646L gene, which encodes the capsid protein p72 (Quembo et al., 2018).
Endemic in more than 20 sub-Saharan African countries and in Sardinia since the last century, ASF arrived at a Black Sea harbour in Georgia in 2007, from where the disease spread quickly to other neighbouring countries, reaching the European Union (EU) in 2014. The first cases of infected wild boar in 2014 were reported from Lithuania and Poland in January and February, followed by Latvia in June and Estonia in September. In the three Baltic States and Poland the disease has become endemic in the wild boar population, whereas the sporadic outbreaks occurring in domestic pigs have been efficiently controlled preventing extensive secondary spread. The latest countries affected in Europe were Romania and Czech Republic in 2017, although in the latter was declared as resolved in January 2019, Bulgaria, Hungary and Belgium, in 2018, and Serbia and Slovakia Republic in 2019. In contrast to what has been observed in non-EU European countries (i.e., the Russian Federation or Ukraine), in the EU scenario, except in Romania, the number of infected farms has been comparatively lower, with wild boar being the most severely affected host.
In August 2018, ASFV demonstrated its huge capacity for transboundary and transcontinental spread jumping to China, several hundreds of kilometres away from previously known infected regions. There, it rapidly spread with 10 countries affected in Asia in 2019. FAO has reported up to 17 countries afected in the Asia & Pacific region (15 September, 2022). .
FOR MORE INFORMATION ABOUT ASF DISEASE VISIT THE FOLLOWING LINKS
FOOD AGRICULTURE ORGANIZATION OF UNITED NATIONS (FAO)
WORLD ORGANIZATION FOR ANIMAL HEALTH (WOAH).